Just recently this Winter, my family and I took a trip to the Laura Secord Museum for a children's Christmas party. We had a great time.
Decorating cookies
Just a little more here
Lets go!
Lovely staircase
Welcome
Where is the fire?
What do you want for Christmas?
Nicely decorated table
Time for a talk about the house
Looks like a nice place to sleep
Cozy
I just love this picture
I will bet this was used for many years
A nice ending to the day.........
Roasting some marshmallow's
OOhhh...are these ever delish
Learn more here.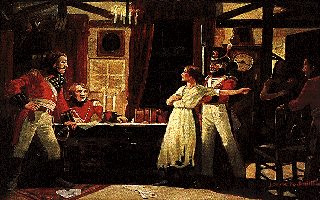 Heritage Minute - Laura Secord
One of dozens of well-known Heritage Minutes that started airing in Canada in the early 1990s. Recorded February 12, 1994.

00:01:02

Added on 03/07/2010

10,912 views